11.06.17 – 16.06.17
An overfilled diary meant that sailing took second place (again), but always good to get any time out in this superb sailing area!
11.06.17 – With Piriac as first stop careful planning of timings to get you locked out, down the river with enough water, and likewise over the bar at the entrance to the Vilaine, are important if you are to make Piriac with enough safe water over the cill. Left LRB at 0840 for the 1000 lock out. Locked out at 1030 and berthed on the waiting pontoon to await the flood tide. Left at 1430 but possibly a little too early as zero under keel between green No 1 and red No 3 channel buoys. Entered the Varlingue channel at 1535, exit at 1610. Wind rising to 19knots. Berthed D4 at Piriac with the timely assistance of a very helpful Capitiniere dory. NB Capitiniere closed 1230-1400 and after 1800. Log reading 20.4. Cum log 3257.7.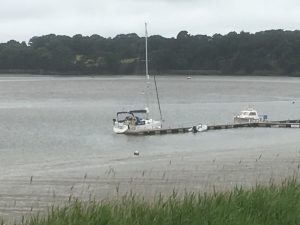 Waiting pontoon Arzal, below lock.
14.06.17 – Piriac to Le Crouesty. Two days in Piriac waiting for strong winds to blow over, enjoying a relaxing time, especially the 'First and Second Mates. 'Widely different forecasts between Meteo Consult on 'phone and tablet. Phone was accurate. Left Piriac 0915 with 3.7 over cill (cill 1m, therefore channel = 4.7m). only 3.5 knots of wind so motor sailing the order. Sailed S of Il Dumet (now named' Pirates Island') and berthed D40 Le Crouesty at 1335. Note: my calculations based on entrance channel dredged to 1.8m gave 1.4 under keel @ 1400, we actually had 2m. Log reading 23.3. Engine hours 4.5.
16.06.17 – Lazy day in Crouesty, then back to the Vilaine 12 knots of wind and a sunny day in prospect. Getting very warm on board and Second Mate Monty is starting to suffer. Calculations for the Vilaine entrance suggest latest 1300, and available locks 1400 and 1800. Took on 15l at fuel pontoon, then left at 0730. Made good time motor sailing. 1045 entered Vilaine and berthed Arzal WP at 1230. !400 lock and berthed Arzal VP 1420. Log reading 31.55. Engine hours 5.5.
17.06.17 – Monty had an uncomfortable night so we feel the decision to head back is correct, at least he can be in the cool of the house. Back to LRB via lunch stop at Rohello. 19.98 Nm.              Cum 3332.4. EH 5.0 Cum 64.3